Frozen shoulder and Physical therapy
www.health.harvard.edu– The above pictures is from this website.
A few keys to determining if you have frozen shoulder are….
Stiffness is your limiting factor of movement !!! Pain will also be a factor but stiffness is the leading limiting factor of movement
The most limited movements will be usually in this order..external rotation (hand behind neck and elbow out)… then abduction (arm out to the side and up)…. then internal rotation (hand behind the back)
It is more common in those that have diabetes and in women
According to the British Journal of Medicine…
It is more common if you have Diabetes, Dupuytren's disease, fibromatosis, hyperthyroidism,hypothyroidism, hypoadrenalism, Parkinson's disease, cardiac disease, pulmonary disease, and stroke.
Three phases of clinical presentation
Painful freezing phase Duration 10-36 weeks. Pain and stiffness around the shoulder with no history of injury. A nagging constant pain is worse at night, with little response to non-steroidal anti-inflammatory drugs
Adhesive phase Occurs at 4-12 months. The pain gradually subsides but stiffness remains. Pain is apparent only at the extremes of movement. Gross reduction of glenohumeral movements, with near total obliteration of external rotation
Resolution phase Takes 12-42 months. Follows the adhesive phase with spontaneous improvement in the range of movement. Mean duration from onset of frozen shoulder to the greatest resolution is over 30 months
Summary points
The three hallmarks of frozen shoulder are …shoulder stiffness; severe pain, even at night; and near complete loss of passive and active external rotation of the shoulder Lab tests are normal Frozen shoulder is rare under the age of 40; the peak age is 56 ,  Steroid injection is effective and best combined with physiotherapy. Refractory cases can be referred for manipulation under anaesthesia and, rarely, arthroscopic release
BMJ. 2005 Dec 17; 331(7530): 1453–1456.
http://www.ncbi.nlm.nih.gov/pmc/articles/PMC1315655/
There are 5 major exercises/concepts that may help at home.
Heat your shoulder if ok per Dr 20 minutes if no contraindications- no issues with heating. Be careful not to get your skin burned!!! The heat helps the tissue extensibility.
Pulleys that can be purchased for about 15 to 20 dollars at any medical supply store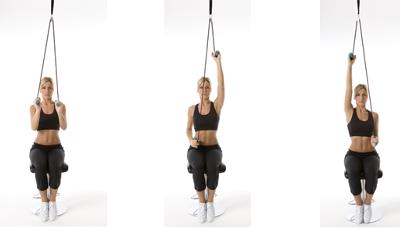 Perform with good arm helping hurt arm raise up 20 x , 3 sets, 6 days a week for 8 weeks.
3. gynaeonline.com Wall slides with arm
Slide the arm up the wall 20 x , 2 sets, 6 days a week , 6 -8 weeks
4. thelondonshoulderpartnership.co.uk Codmans exercises
Let your arm dangle like a pendulum and let it rotate around like a circle 30 x , 2 sets , 6 x a week , 8 weeks
5. www.agedefyinggolf.com External rotation exercise
Sit up straight with elbow on table , lean body forward so that arm is going into external rotation, go slowly as best you can, it will hurt. Perform 10 x holding 10 seconds, 2 sets, 5 x a week, 8 weeks.